Spectacular High Living in The Queen City of the South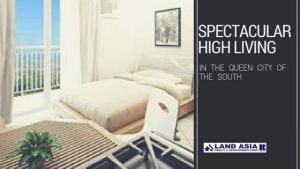 In the midst of the hubbub of city life, finding serenity is a luxury not many can find. Escape the hustle and bustle that comes with urban living and find yourself a home in Le Menda Residences.
Le Menda Residences is the highest situated condominium in Cebu City, providing you magnificent views of the landscape from the lush greens of Busay to the shimmering blues of the sea in stark contrast to the city skyline. Set in a prime location inside Plazaville Subdivision, Veterans Drive, it is a stone's throw away from the malls, restaurants, tourist spots, and major establishments in the city.
There are over 167 tastefully-appointed units spread across 21 floors, each reflecting the Aussie-inspired luxurious lifestyle for you to experience. Make it your own according to what fits your needs! You may choose from a studio unit with a total area of 24 square meters, a one-bedroom unit with a total area of 45 square meters, a two-bedroom unit with a total area of 70 square meters, and a three-bedroom unit with a total area of 84 square meters.
The interiors are specifically designed to maximize your space, featuring efficient layouts to simplify your daily routine. Each unit comes with the inclusion of a home theatre system with 40" smart TV and stand, split AC unit, wardrobe, dresser, bed, bedside table, window-type AC, 6 cu.ft. regrigerator, and a dining set. They are also each fixed with smoke detectors, an intercom system, sprinklers, a range hood, shower enclosure, a vanity, a water heater, and kitchen cabinets. Eliminating the stress from moving into a new home, Le Menda has everything you need right where you need them!
Have the perfect staycation and take a dip in the infinity pool while looking into a breathtaking view of the Cebu City skyline. Pamper yourself in our salon or get stronger in our world-class gym. Little ones will feel right at home in the daycare center or splashing around in the kiddie pool. Enjoy quality time with your family and friends at our coffee shop, barbeque area, or game room and movie theatre! Take part in life's simple pleasures right at your doorstep.
Who knew luxury could be so convenient? With Le Menda Residences, you get to live the life you'll never want to take a break from.
Make Le Menda Residences your home. Talk to one of our agents now!