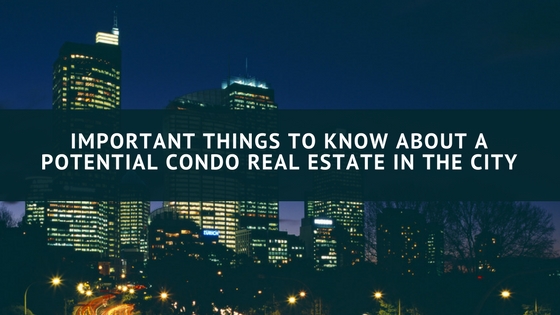 Investments are tricky, even more so when they're as personal as a home. It is important
to be able to make an informed choice when you decide where to put your money in. As
a condominium unit is essentially a shared piece of property, it is even more crucial to
do your homework and find out everything there is to learn about it.

Know what the condo includes
This may seem too obvious but a lot of the time, buyers only ask surface
questions. It is important to ask if you are entitled to your own parking space
or if there are additional charges for it. What amenities are you privileged
with? What appliances and furniture come with the unit? Are you allowed to
alter and/or replace them? Can you renovate the space according to your
preference? Questions like these will help you picture the kind of life you
intend to live in your potential space, so don't be shy.

Know whether the building is insured
In a tropical country that is prone to natural disasters like the Philippines, it
is important to know if you have backup in case an earthquake hits. Safety
and security is a major factor, as well as knowing whether, if worse comes to
worse, you have financial backing for your home. You'll be able to sleep more
soundly in the midst of a storm knowing that your home and your financial
investment is stormproof.

Know who maintains the property
Finding out who maintains the building of your condo unit is like getting to
know your neighbors when you move into a new town. You'll have a pretty
good idea the kind of environment you'll be in, whether they keep the lawn
clean or, in this case, the hallway. Things like troubleshooting and upkeep are
essential to maintain kind of lifestyle you are buying into. It doesn't pay to
have a pool when the pool is dirty half the time. Or if the garbage shoot is
clogged, security is sloppy, and the clinic isn't properly manned. The
amenities available in the property you're buying into is only as good as the
maintenance that keeps them useable.

As mentioned previously, these are things you need to look into before making your
decision. If your agent is hesitant to disclose certain information, remember that as an
investor, you are entitled to learn as much as you can about a property you are buying
into. Don't be intimidated out of asking questions.

With Le Menda, you never have to wonder. You get to live independently with your own
furnished condominium! Situated in a high-end residential area, Le Menda is developed
by Vestahomes Commercial Incorporated. Not only will you have gorgeous sweeping views of the Queen City of the City, you will also experience the Aussie standard of living on a daily basis!
Unit Inclusions:
 Home theater system with LED TV
 TV stand
 Split AC unit
 Wardrobe
 Dresser
 Bed
 Bedside table
 Window type AC
 Refrigerator
 Dining set
 Complete Furnishing
o Living
o Dining
o Kitchen
o Entertainment
o Bedroom
 Fixtures
o Smoke detectors
o Intercom system
o Sprinklers
o Range hood
o Shower enclosure
o Vanity
o Water heater
o Kitchen cabinets
Amenities:
 Postal box area
 Restaurant/Café
 Salon
 Pharmacy
 Laundry
 Water filling station
 Supermarket
 Day Care Center
 Community Hall
 Gym /Fitness Center
 Theater Room
 Computer/Game Room
 Table tennis/Billiards Room
 Swimming pool
 Kiddie pool
 Sauna room
 BBQ area
What are you waiting for? Talk to one of our agents today!